Booster Classes
Our 4-week BOOSTER Classes are designed to bridge the gap from progress reports to the winter break. Join us in the classroom for one of our popular courses and see the difference quality instruction makes!
Early Reading Skills - $100 +hst

Mondays, 4:30-5:30pm  OR
Tuesdays, 4:30-5:30pm  OR
Saturdays, 10-11am
Kindergarten Basics - $100 +hst
Saturdays, 9-9:45am
The 'Write' Stuff - $100 +hst

Tuesdays, 5:30-6:30pm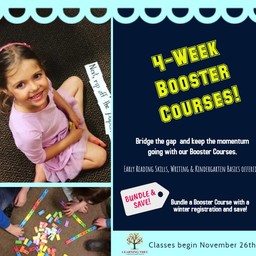 BUNDLE & SAVE!
Register for a booster class + a winter course and SAVE!
$260 +hst for the bundle